About Aron Della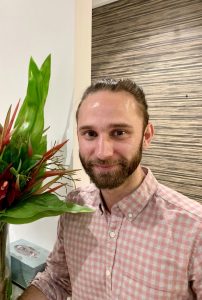 Aron is a qualified naturopath, nutritionist, and herbalist. Aron applies an evidence-based, holistic approach to achieve optimal health for his clients.
Specialising in male and female hormonal imbalance Aron has a desire to work with clients with complex issues involving a holistic approach using scientific methods to really discover the underlying issues at hand. Aron likes to work with both children and adults with a strong interest in hormonal imbalance, fertility, pre-conception, PCOS, endometriosis, thyroid, menopause, low energy, low libido, weight loss and more.
With his evidence-based approach, Aron applies the latest testing methods to eradicate guesswork and uncover any underlying roadblocks to optimal health. With a busy work/life balance, Aron understands the daily pressures that men and women face and the importance of a mind-body approach to achieve full health potential.
Aron's experience is supported by a Bachelor of Health Science, Advanced Diploma of Naturopathy, Diploma of Herbal Medicine, and a Diploma of Nutrition.
Aron is a member of the Australian Traditional Medicine Society (ATMS).